Steelers 2017 Mock Draft
Hey everybody, hope your week isn't going too bad even with the latest election results in. One of the things I like the best about writing a sports blog is that I have the freedom to write about things that happened, things that are currently happening or things I think will happen. Today I want to cover the third category. I was watching the game the other day, sipping coffee from my barely used Steelers mug and was wondering how the team will do next year. This year was supposed to be the year but after some freak injuries and some coaching issues we are possibly looking at missing the playoffs all together. That would make for a much nicer draft pick but still not the ideal result. Hopefully with some good drafting and a productive off season we will be ready for next year. Let's take a look at some prospects we may be drafting come April.
Round 1
As of now, the biggest problem for the Steelers is a lack of pass rush. Before being injured, Cam Heyward was tied with 5 other players for most sacks with only 2. Now he is tied with 6 others. The team will be staying in a 3-4 next year I assume, so look to players like Illinois linebacker Dawuane Smoot. Smoot has a solid punch and a very quick first step similar to Bud Dupree but his hand usage and general technique should make for a big impact to a faltering pass rush.
Round 2
Most fans wouldn't think about drafting a running back for at least 4 more years, but the reality seems closer every day. With no running back under contract after this season, Pittsburgh may want to look at a more long term option than tying funds to either a 34 year old back or a superstar that has missed games in two consecutive seasons because of drug tests. Nick Chubb out of Georgia looks like an obvious pick; however I would be skeptical about his ability to make an immediate contribution. Chubb is a powerful back with surprising speed that the Steelers could utilize to continue with the style of offense they are successful at but it may take quite a bit of tweaking to go from Bell to Chubb.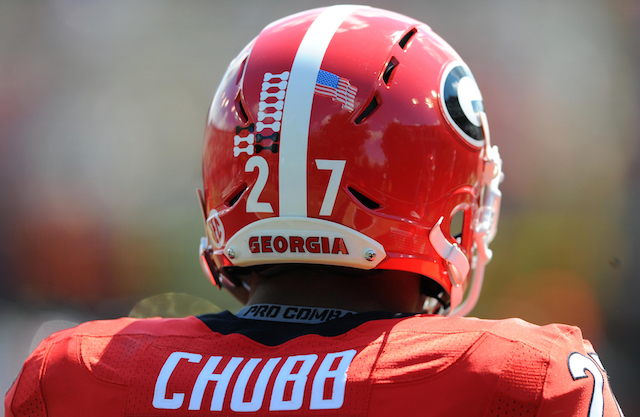 Round 3
Round three in Pittsburgh means it's time to draft a wide receiver. Seemingly getting a star every time they draft a receiver the middle rounds, it may be time for them to dig into their bag of tricks and find another one. Markus Wheaton will be gone at the end of the season, the future of Martavis Bryant is unknown and most other receivers are jumping from great games to abysmal ones. Next year I could see Brown and Bryant on the inside (if he gets his shit together) and either Coates or Rogers in the slot, but that could easliy change to Brown and Coates outside with Rogers and DHB in the slot. This isn't bad, but the Steelers need some depth as they have seen this year. Western Michigan Receiver Corey Davis may be the solution here. Davis is silky smooth route runner who would complement Antonio Brown and maybe stop the triple coverage's that Brown has been plagued with this season.
Rounds 4-7
In the later rounds of the draft I am expecting some more defensive backs and offensive linemen. David Decastro was recently restructured to a longer contract but Ramon Foster and Maurkice Pouncey both have paydays coming up in the next few years. Another lineman who can play all 5 spots on the line would be a point of emphasis especially after having to give B.J. Finney( who did amazing) his first NFL start and not at his natural position at guard. With Mike Mitchell nearing the end of his contract look for the Steelers to start grooming a safety to replace Mitchell as he has been slightly above average with the Steelers but is starting to show his age. 2016 rookie Sean Davis may be a viable option, but his play in the nickel role may keep him delegated to that. You guys know that my love of the Steelers is equal to my passion for rally so I hope that we can get all these players on the field at their best positions, but sometimes the next man up mantra becomes quite real and players must play out of position. Sometimes this is good and gives the player a unique experience and appreciation for what their teammates do. I am really hoping that we can get another steal in the seventh round again like this year, another Bronko Negurski award winner would be nice but ultimately I have faith in the front office to make the right picks.